PLX is the IDS web-based solution that supports AIS/AIM organizations in the digital processing of aeronautical data from its origination, through storage in the aeronautical database, to distribution. PLX is able to check the integrity of processed data and keeps track of any actions performed - as per the requirements of the Aeronautical Data Quality (ADQ). It virtually eliminates the need for traditional communications during processing (phone calls, faxes, emails) and aids compliance with the EUROCONTROL CHAIN model, the requirements of aeronautical standards and regulations such as RTCA/200A, ICAO Annex 15, Doc 8126 (AIS Manual), EC73/2010 (ADQ) and related EUROCONTROL compliance material.
Features and Characteristics:
Fully controlled origination, processing and distribution of static data;
Remote access, browsing, visualization, processing and distribution of data, tasks and information;
Supports AIXM 5.1 and AIXM 4.5 data models as well as others (configurable);
Data integrity checks on demand (raw data, change requests, attachments);
Tracking of the entire lifecycle of a request at both workflow and system levels;
Automatic email notification capability;
Full search and reporting functionalities to retrieve processing history, remarks and system actions;
Document library for sharing any kind of file (publications, charts and others, stored per effective date).
The PLX client pages contain the user interfaces which enable authorized users to:
browse data in the IDS AeroDB aeronautical database and perform queries on reference data (in read only mode, as per data security policy);
originate requests with raw data for rule driven updates, deletions and the creation of new features/attributes with the aid of web GIS views and web forms - down to individual AeroDB features or attributes;
check ongoing/pending activities via user-specific summary pages and process any requests as per data information and the metadata linked to tasks;
coordinate the activities of a team of AIS operators;
supervise AIS operations;
change workflow version and configuration;
manage the PLX system.
PLX supports concurrent processing of any workflow/raw data instance. The tracking history enables quality assurance managers to obtain an overview of the whole AIS process whenever needed.
The PLX server application can be fully configured in terms of:
connection to multiple databases;
access to web GIS data;
user privileges (administrators, operators, providers);
assigned raw data types and data profiles for a rule-driven data collection (pre-defined/configurable sets of aeronautical features and attributes);
workflows and user groups (configurable pre-coded or dynamic process definitions supported);
integration with IDS applications compatible with the PLX Plugin (down to different configurations for individual tasks);
on demand monitoring of processed data integrity via CRC-32;
automatic email notification for pre-defined/configurable significant events;
access policy for the document library.
Full configurability allows the system to be tailored for specific AIS needs.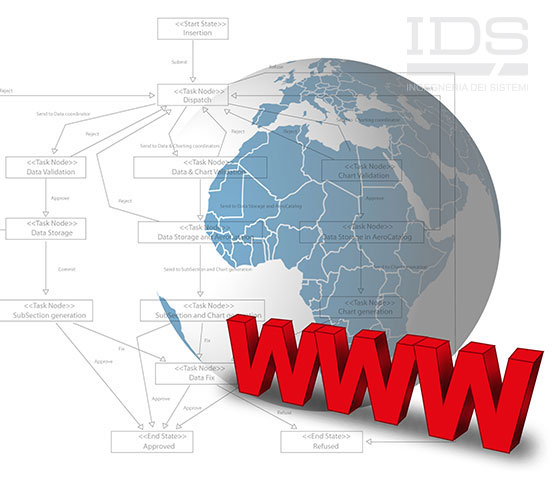 Visual representation of a PLX Workflow (top left) and the Business Report GUI