Test Bed for A-SMGCS (Advanced Surface Movement Guidance and Control System), TBA3D, is an airport control tower simulator which provides a test bed facility for the real time simulation and analysis of airport operations. It provides a platform to experiment with new airport layouts and procedures to ensure that they are both safe and efficient and to evaluate the effects of changes, emergencies and adverse conditions on airport capacity and operations.
It is specifically designed to ensure maximum flexibility for users who require extensive simulation functionalities. TBA3D provides an integrated but modular environment which is easily adaptable to any aeronautical environment in the world. TBA3D's air traffic controller and pseudo pilot stations can be further integrated with multiple instances of IDS's Advanced Aircraft Cockpit Simulator (AACS) and procedure design tools via ARINC 424 (FPDAM) to model air traffic scenarios and to configure exercises.
As TBA3d is designed to be used for experimentation and not for training and therefore does not require certification. Consequently, TBA3D is extremely flexible allowing for the layout and information available to each seat to be configured for different exercises and scenarios.
TBA3D is mainly used in:
New airport design –assessment and technical/operational specifications of:

Airport layout
Aircraft procedures air side, land side and ground side
Facilities
Airport capacity

Optimization and expansion of an existing airport:

Analysis of the overall performance of the airport;
Analysis of the factors and processes influencing the airport's capacity;
Definition of a new capacity target;
Adaptation of the infrastructure and the facilities for the new target.

Real time airport capacity assessment:

Critical situation;
Unusual circumstances;
Emergencies.
TBA3D is an open multipurpose platform made up of:
Cylindrical 270° OTW (Out The Window display)
3 ATC (Air Traffic Controller) equipped consoles;
1 Supervisor console;
SOC (System Operating Console) + 4 additional PWP/DWP (ground vehicle driver) consoles in a separate room.
TBA3D can be interfaced with:
Multiple instances of IDS's Advanced Aircraft Cockpit Simulator (ACS);
Procedure design tools via ARINC 424;
ASTERIX compatible systems;
DIS (Distributed Interactive Simulation) compatible systems.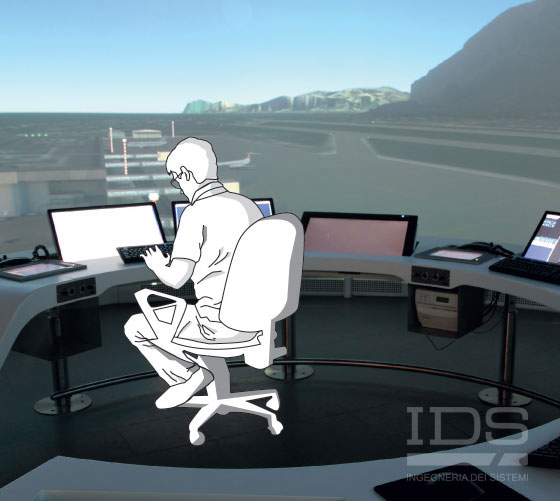 TBA3D 270° Display