Advanced aircraft cockpit simulator for ground based validation and risk assessment
AACS is a cockpit simulator designed to support aeronautical information management activities rather than pilot training. Its primary role is to perform validation of Instrument Flight Procedures (IFPs) both in regards to flight procedure flyability and also flight crew workload in nominal or contingency situations (e.g. failures, weather effects). AACS is compliant with ICAO 9906 Vol.5 requirements for ground validation and the flight management system is capable of conventional as well as area navigation (RNAV) and Performance Based Navigation (PBN).
Ground based flight procedure validation via simulation plays a key role and AACS can be used to determine that: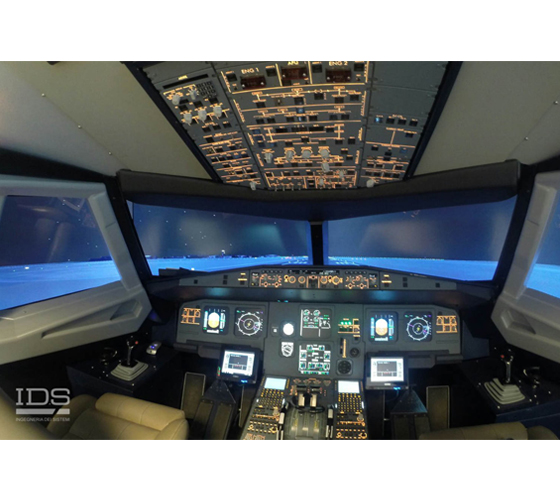 The procedure operates to its design accuracy with the supporting systems and navigation aids
All obstacle and navigation data on which the design is based is verified for accuracy and completeness
The flyability of the procedure on the basis of the pilot's workload is assessed as suitable
The aerodrome infrastructure is adequate for the procedure and to assess the visual impact of trajectories
The presentation of instrument procedure charts is in accordance with the requirements
As it is not intended for pilot training AACS can be configured to simulate different aircraft, equipment and environments. It can also easily be integrated with other systems including tower and air traffic simulators such as IDS's TBA3D as well as IDS's FPDAM flight procedure design suite.
The flexibility of the AACS software and hardware enable it to be used for more than just procedure validation, also allowing the validation of innovative operational concepts requiring advanced airborne capabilities, such as PBN, 4D Trajectories (4DTs) and airborne separation assurance system (ASAS) maneuvers.

Ground Validation
Ground based validation of Instrument Flight Procedures (IFPs)

Risk Assessment
Risk assessment for the installation of new obstacles

New Concepts
Validation of innovative operational concepts
Able to simulate A/B/C/D aircraft category dynamics
Virtual and physical replica of A320 instrumentation
Simulation of weather conditions (e.g. visibility, cloud layer, rainfall, wind, wind shear, turbulence)
Contingency simulation (e.g. engine-out, avionics failure)
Aircraft performance monitoring during the simulation
Generation of a 3D external view in a WGS84 standard earth model
Virtual traffic generation for integrated simulation
Reproduction of the sound of on-board systems including aural warnings
Complex flight plan editor
Import of static data (e.g. ARINC/IPAS)
Standard interfaces and data formats (e.g. EUROCONTROL ASTERIX CAT)
CPDLC, ASAS and i4D functionalities
High quality 3D models of the environment (using Presagis Creator)
AACS consists of the following modules:
Supervisor Operator Console (SOC)
Computer System
Cockpit
Out of the Window view
The possible configurations are:
Virtual
Basic
Smart Glass
Advanced
Enterprise
ICAO Doc 9613 – PBN Manual
ICAO Doc 8168 – IFP Design Criteria for RNAV/RNP
ICAO Doc 9905 – IFP Design Criteria for RNP-AR
ICAO Doc 9906 – IFP Design and Validation Process
EUROCONTROL Standard Document for Surveillance Data Exchange – All Purpose Structured EUROCONTROL Surveillance Information Exchange (ASTERIX)
ARINC 424 v.16 and v.19
EUROCONTROL IPAS
GRIB (GRIdded Binary or General Regularly-distributed Information in Binary form)