A solution for dynamic aeronautical data management that enables the transition from AIS to AIM
CRONOS is a modular system for dynamic aeronautical data management which responds to the ICAO requirements for the transition from AIS (aeronautical information services) to AIM (aeronautical information management). These modules provide digital and traditional NOTAMs, Flight Plans (FPL) and Air Traffic Service (ATS) messages as well as OPMET and Pre-flight Information Bulletins (PIB). Each module has been designed to act in a dual manner. The exchange of traditional messages is performed via AMHS or AFTN connections while digital events or packages are available for access or are distributed using a SWIM REST web service interface. The modular and extensible nature of CRONOS allows it to meet the dynamic aeronautical data management requirements of today while also allowing for future enhancements and expansions.
Ground based flight procedure validation via simulation plays a key role and AACS can be used to determine that: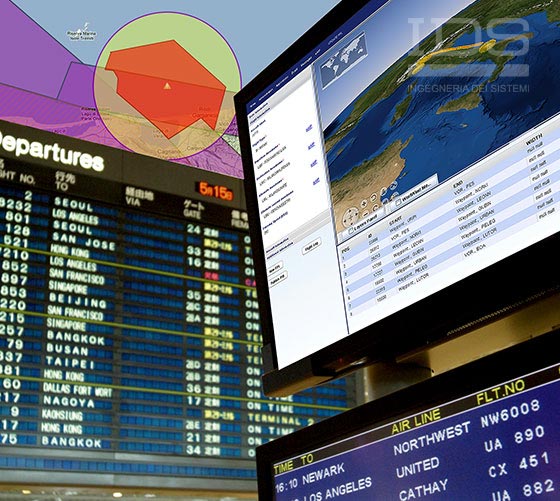 CRONOS' dynamic database is a high-performance and high-availability dynamic aeronautical data store, forming a single platform for the management of all types of dynamic aeronautical information.
Through the use of service-oriented architecture, dynamic aeronautical data stored within CRONOS can be shared openly with 3rd-party applications and over SWIM infrastructure. The CRONOS Dynamic Database core is a system for managing both aeronautical messages and digital information in a cutting-edge database implementing the current and upcoming AIXM 5 standards.
CRONOS can be configured as a standalone system or can be fully integrated with the IDS Aeronautical Suite which is based on an AIXM 5 compliant aeronautical database, AeroDB. This serves as a managed and validated repository of static AIS data in compliance with AICM-AIXM v5.1. This data is shared with CRONOS for the composition and validation of dynamic aeronautical information, ensuring a high level of data integrity which even extends to dynamic AIS.

Dynamic aeronautical data management

NOTAM and Digital NOTAM management
and other x-TAM messages

FPL management
and ATS related messages

MET management
and visualization of digital weather charts
CRONOS  – TECHNICAL SHEET
Modular and extensible architecture
Supports AMHS, SADIS, TCP/IP, AFTN, OASIS WS-Brokered Notification Service and WMO connections
Can be standalone or integrated within the IDS Aeronautical Solution
ICAO compliant message templates for message creation
Geographical visualization of NOTAMs, MET data, FPLs and PIBs
Pilots, NOTAM Officers (NOF), ATS Reporting Officers (ARO) and Airline users can access the CRONOS web-portal by using the following modules, each of which can be standalone as long as it has an AMHS/AFTN or SWIM connection
NOTAM Module: Can be used for standard messaging and advanced AIXM 5.1 aeronautical event exchange. Whether standalone or as part of the IDS integrated suite it provides ideal functionality for the daily use of NOF officers.
FPL Module: Allows general aviation users and airline operators to manage their flights and track changes in the status of their flight plan proposals such as the insertion, update, approval and distribution of their FPL.
OpMET Module: Enables aviation users and national/regional OPMET centers to receive or distribute meteorological aviation messages and bulletins.
PIB Module: Gathers, filters and sorts all the above information and either displays it via a unique 3D browsing experience via the web portal or prints out reports for any aeronautical entity related to aerodromes, flights, airspaces or geographic areas.