An integrated system to acquire, validate and manage airport, terrain and obstacle data in accordance with ICAO Annex 15
The IDS e-TOD (electronic Terrain and Obstacle Data-set) Suite is an AIM (aeronautical information management) solution designed to manage airport, terrain and obstacle data, ensuring compliance with international data quality requirements (ICAO Annex 15, Amendments 33, 34 and 36).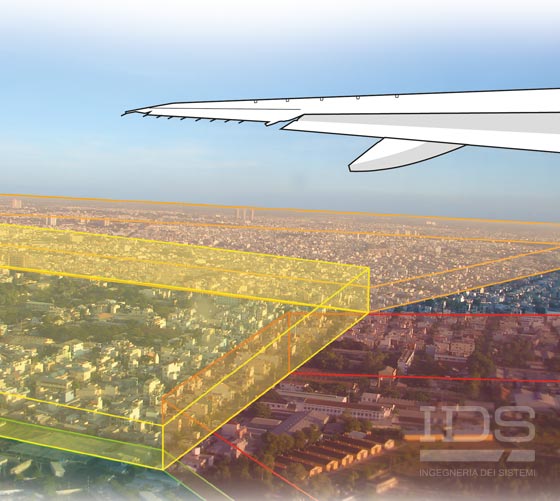 Primarily for use by Air Navigation Service Providers (ANSPs) and airports, its main functionalities include data administration, reporting and processing, and making all elements available for modeling airport areas and ICAO obstacle chart construction and delivery.
The Terrain and Obstacle Database (TOD) and the Airport Mapping Data Base (AMDB) are able to support all activities and provide a common basis either to perform aeronautical charting or to design airspace and flight procedures within the IDS FPDAM interactive environment.
e-TOD is a modular system, parts of which can be used standalone while others can be integrated with the IDS Aeronautical Suite.

Airport, terrain and obstacle
data
Obstacle and terrain data have been required to be published for several years. Obstacle data was published in a textual form and classified in one of three categories: enroute obstacle; aerodrome obstacle impacting circling area; or aerodrome obstacle impacting take-off/approach area. In ICAO aeronautical aerodrome obstacle charts these are referenced as type A, B and C. Terrain information was also published in obstacle charts and in Precision Approach terrain charts for precision CAT II/III runways.
The improvement in technology led industry to ask for new requirements for digital terrain and obstacle data which integrated requirements for airport data information. ICAO replied with new requirements for TOD data which were published in Annex 15 Amendment 33.  ICAO changed the requirements for States in Amendment 36 with all ICAO states having to assure data provision according to different numerical requirements in accordance with their geographic position.
Obstacle and airport features can be represented by points, lines or polygons in accordance to ICAO doc 9881.
Obstacle and AMDB (Airport Mapping Data Base) data import/export from/to many formats (ASCII file, AIXM , vector file , KML)
Obstacle and AMDB data management
Terrain data management (BT, DTED, GEOTIFF format)
Data validation against standard and custom rules
Display data in 2D/3D environments
Sketch production
Obstacle and terrain assessment against ICAO Annex 14 and 4 surfaces
What if analysis
ICAO obstacle and terrain chart production and management
The e-TOD Suite is composed of four modules:
e-TOD Data Manager: A standalone module which can manage the entire dataflow and lifecycle of airport, terrain and obstacle data. This includes validation, integration, import, conflict resolution, data delivery etc.
e-TOD Surface Design: In conjunction with the IDS AeroDB database e-TOD Surface Design provides the tools to design ICAO annex 4 & 14 surfaces and ICAO Annex 15 collection areas by linking all airport related features and performing the related TOD assessment.
e-TOD Charting: Provides all the necessary tools to extract obstacle and terrain information needed to create obstacle and terrain charts type A and B, as well as Precision approach terrain charts.
e-TOD LUA: The standalone e-TOD Land Use Assessment module is e-TOD's dedicated module for managing the process by which obstacles are planned, notified, surveyed and published.