Enables streamlined virtual flyability checks and satellite availability analysis
FPSAT (Flight Procedure Satellite Analysis Tool) is an AIM (aeronautical information management) software tool for performing virtual flight inspections in order to check the flyability of RNAV procedures, the coverage and accuracy provided by the navigational aids infrastructure along the whole of a procedure's trajectory and to identify any electromagnetic interference that may affect navigational aid performance.
FPSAT is a pre/post processor that enables procedure specialists to: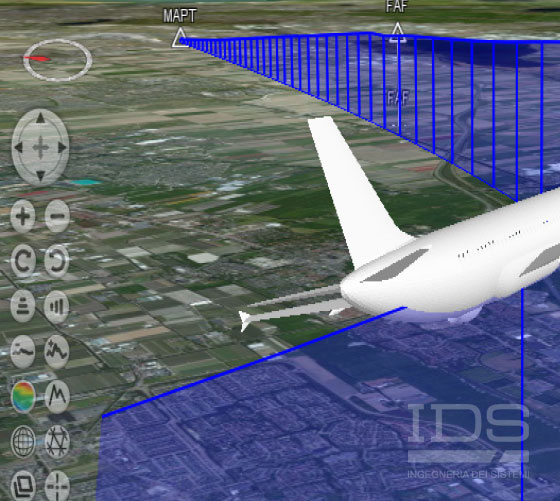 Check how the Flight Management System (FMS) will fly the coded procedure by comparing the nominal trajectory and the simulated trajectory, taking into account ARINC path and termination (and related attributes), the type of aircraft as per EUROCONTROL BADA files, and kinematic and weather restraints
Verify GNSS (global navigation satellite system) signal in space performance (GPS, SBAS, GBAS) along a trajectory
Assess the signal continuity, coverage and couples' availability of DME/DME navigation along a trajectory
Visualize Air Traffic Services (ATS) related geographic data, perform diagnostics and check the results for their functionality
Review procedures to optimize navigation performance, cost and environmental impact

Flight Procedure Satellite Analysis Tool
performing virtual flight inspections
ICAO Docs 8168, 8071 and 9906 describe the activities required for the ground validation of RNAV (area navigation) flight procedures. These include checking the coverage and accuracy provided by the navaid infrastructure along the whole of a procedure's trajectory, and identifying any electromagnetic interference that may affect the performance of the navaid infrastructure.
A virtual flight inspection of an RNAV procedure may also be used to verify and optimize:
the obstacle environment where the procedure is located
the flyability of the procedure
The ARINC 424 coding of the procedure by fixing the geometry of the waypoint/nominal track
The effects of different weather (wind and temperature) conditions
FPSAT provides the means to perform these inspections and also covers the need to verify the availability and usability of navaids (satellite and ground based signals) along a flight path:
For a given realistic aircraft attitude
For a specific aircraft category
For different take-off loads and weather conditions
Considering the variability of the GPS constellation
For different types of GPS augmentation
Taking into account changes in the electromagnetic environment due to interaction with potential sources of interference
GNSS and multi-DME navigation performance analysis
Automatically load complex SID, STAR and approach data into the procedure design graphic environment without any manual typing
Load data from different sources e.g. IDS FPDAM and/or IDS EMACS
3D visualization of terrain/image information
3D visualization of aircraft trajectory (nominal and simulated) and RNP tunnel
Out of the Window view with animation along a trajectory
Detailed graphics of the horizontal/vertical/altitude/speed/aircraft attitude
Full reporting functions on the performed analysis

the PROuD project has received a Single European Sky Awards 2017 "special mention for performance and safety" during the World ATM Congress in Madrid!