Web-based aeronautical data workflow management that includes data origination, processing and maintenance and provides full traceability and integrity of processed data.
PLX is a web-based solution that supports aeronautical information services (AIS) or aeronautical information management (AIM) organizations with aeronautical data workflow management and aeronautical data quality. It provides digital processing of aeronautical data from its origination, through storage in the aeronautical database and then to distribution. PLX checks the integrity of processed data and keeps track of any actions performed on it, as per the Aeronautical Data Quality (ADQ) requirements.
PLX virtually eliminates the need for traditional communications during processing (phone calls, faxes, e-mails) and aids compliance with the EUROCONTROL CHAIN model, as well as the requirements of aeronautical standards and regulations such as: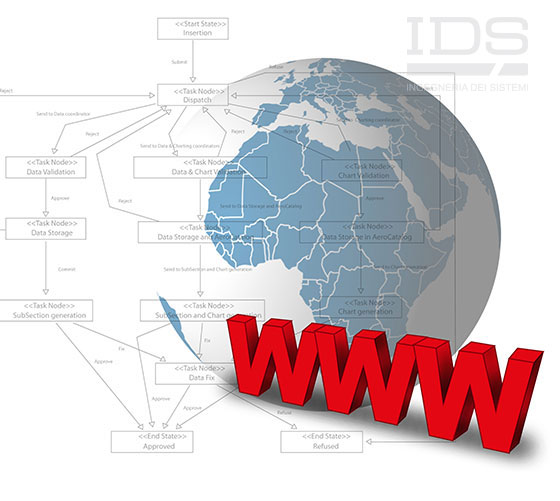 RTCA/200A
ICAO Annex 15
Doc 8126 (AIS Manual)
EC73/2010 (ADQ) and related EUROCONTROL compliance material
PLX is fully configurable in regards to user privileges, raw data types and data profiles and workflows, allowing the system to be used for specific needs. It enables the collection of project design data by being connected to and by operating with IDS design applications such as FPDAM and Airspace Designer. PLX also provides users with the ability to visualize and interact with aeronautical data in a rich web GIS environment such as Google Maps, Google Earth or any other configurable geospatial based maps.

Aeronautical Workflow Management
for AIS and AIM

Aeronautical Data Quality
for AIS and AIM
PLX provides Air Navigation Service Providers (ANSPs) with a solution for aeronautical data workflow management and ensures aeronautical data quality in their AIS/AIM activities as well their aeronautical design processes.
It also aids airports in providing data to ANSPs and to enable ANSPs to approve an airport's data changes without the need for data conversion.
Fully controlled origination, processing and distribution of static aeronautical data
Remote access, browsing, visualization, processing and distribution of data, tasks and information
Support for AIXM 4.5 and AIXM 5.1 (and IDS proprietary AeroML) data models by means of PLX's configuration
Data integrity checks on demand (work package, change requests and attachments)
Tracking of entire lifecycle of a request at both workflow and system levels
Automatic email notifications
Search and  report  functionalities  to  retrieve  process history,  remarks  and  system actions
Document library  for  sharing any  kind  of  file  (publications,  charts and  others, stored per effective date)
Business Process Modeling and Notation (BPMN) 2.0 support
The core components of the PLX aeronautical platform are:
PLX Datastore Layer: a set of databases responsible for managing and storing all data used by the application. It is logically divided into two separate parts, a time enabled AIS database where the status can be "Historical", "Current", "Future" or "Planning", and a PLX database used to store PLX system data
PLX Application Server Layer: the very core of the PLX system including accounting, BPMN definition, notification and messaging system and log sheets etc.
PLX Web Server Layer: the web client which provides input forms and structured PLX content via HTTP
PLX Client Layer: allows authorized users to interact with PLX
PLX Communication Layer: PLX can interoperate with other IDS AIS applications that have been integrated with the PLX Plugin
Additional components that are available for PLX are:
AIXM Web Service: provides the schema and business rule checks related to AIXM 5.1 files
ODM (Obstacle Dossier Manager): a web application that allows data in AIXM 5.1 datasets to be edited