Ubiquitous message exchange for ATS message centers
Ubimex is IDS's field tested and proven Air Traffic Service (ATS) Message Handling System (AMHS). While AMHS technology is relatively new to the field of air traffic management, IDS has extensive experience in the underlying X.400 technologies having deployed numerous X.400 message switches around the world. The result of these years of experience is an AMHS system that is both feature-packed and highly reliable.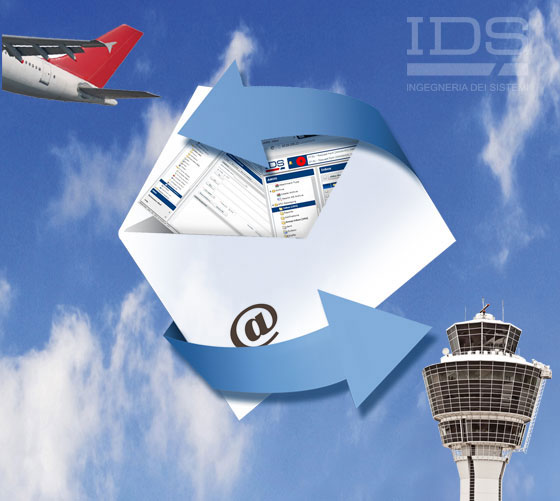 Ubimex consists of 5 core components:
Message Transfer Agent (ubiMTA): Provides the core message switching and AMHS communications of Ubimex
Message Store (ubiMS): A robust database for short and long-term message storage
Access Unit (ubiAU): Provides bidirectional protocol/message/address conversion between AMHS and a number of different standards
Directory Services (ubiDS): An x.500 directory service that contains information about AMHS entities and makes it available to the AMHS community
User Agent (Ubimex Web): A secure web-based portal through which both operator and administrator users can perform all the functions of AMHS
Ubimex Web also provides operators with an integrated environment for AMHS and AFTN messaging modeled after popular email applications such as Microsoft's Outlook Web Client and Google's Gmail. In addition, it allows system administrators to configure, maintain and monitor AMHS operations using a graphical user interface.

message exchange
for ATS message centers
Ubimex - Main Applications
ICAO introduced AMHS (or ATSMHS – Air Traffic Service Message Handling System) in the early 2000s to replace the aging and limited AFTN technology previously in use. AMHS allows data such as flight plans, meteorological data and NOTAMs to be transmitted at high data rates between ground-ground users, primarily Air Navigation Service Providers (ANSPs) but also airports, air forces and meteorological services.
Ubimex  – TECHNICAL SHEET
Designed for 24/7 operations in a mission-critical environment
High message throughput with low latency
Automatic generation of reports
Robust database for short and long-term message storage
Bidirectional protocol/message/address conversion between AMHS (x.400) and AFTN, CIDIN, Email, Fax, NADIN (I, II, IP), SITA and WMO
Directory lookup for users and validation of message addressing
Simple message creation using ICAO compliant forms
Ubimex consists of 5 core components:
ubiMTA provides the core message switching and AMHS communications of Ubimex:
Dual-Stack [OSI & IPS]
400 P1 communications with adjacent MTAs
Delivery/Reception to/from the message store
Routing of messages, probes and reports
Automatic generation of reports
Validation and authentication of originator & recipients
Detailed transaction and event logging
High message throughput with low latency
Support for binary message attachments
Optional security using x.509 Public Key Infrastructure
ubiMS is a robust database for short & long-term message storage:
Receives messages from ubiMTA on behalf of users [Inbox]
Submits messages to ubiMTA on behalf of users [Outbox]
Keeps all message traffic for a user-configured duration
Provides high-performance message searches
Simple tools for backup and archival
ubiAU [also known as an AMHS/AFTN Gateway] provides bidirectional protocol/message/address conversion between AMHS [x.400] and the following:
AFTN
NADIN [I, II, IP]
CIDIN
SITA
Email
WMO
Fax
ubiDS is an x.500 directory service that contains information about AMHS entities and makes it available to the AMHS community:
Supports LDAP, DAP, & DSP protocols
Provides directory lookup for users
Serves as the validation source for message addressing
Optionally can store the end user x.509 certificate
Ubimex Web User Agent is a secure web-based portal through which both operator and administrator users can perform all the functions of AMHS:
Operator, Supervisor, Reject, & Intercept Messaging
AMHS/AFTN Gateway [ubiAU] Control Position
System Configuration, Maintenance, & Monitoring
Directory User Agent
Ubimex Web offers operators an integrated environment for AMHS and AFTN messaging modeled after popular email applications such as Microsoft's Outlook Web Client and Google's Gmail:
View message traffic easily using Personal or Group Inboxes, Outboxes, & Sent Items
Ease the transition to AMHS by choosing to create messages using AMHS or AFTN views
Simplify message creation using ICAO-compliant forms
Save draft messages for future use or setup message templates to reduce repetitive data entry
Manage contacts using personal and global address books from the directory server
Ubimex Web allows system administrators to configure, maintain and monitor AMHS operations using a graphical user interface:
Manage users, groups, rights & privileges
View logs of messaging transactions & system events
Configure internal AMHS & AFTN system parameters
Monitor the status of system processes & components
Run diagnostics to test system performance
Ubimex is designed for 24/7 operations in a mission-critical environment:
No-Single-Point-of-Failure anywhere within the system
Master & Hot-Standby server architecture with automatic switchover mechanism
Multiple LANs to ensure network connectivity
'n' Replication seamlessly replicates messages from the Master server to any number ('n') of Standby servers
No blind database replication; 'n' Replication uses shared memory replication at the application level
Defined process of replication confirmations ensures both the Master & Standby ubiMS are independent but in lock-step
Standby servers can be co-located with the Master or separated geographically at Disaster Recovery Locations
Software Process Auto-Recovery monitors key applications to detect abnormalities and initiate process restarts
Certification
Successful passing of the EUROCONTROL Conformance Test Plan (ICAO EUR Doc 020, EUR AMHS Manual, Appendix D)