Modern aircraft, helicopters and also unmanned aerial vehicles (UAVs) all make use of extensive avionic systems. These include both onboard systems, such as flight control systems and autopilots, as well as ground based systems, such as UAV ground control stations, for remote control of onboard flight systems or payloads.
Over the years, IDS has built up a proven track-record in providing professional avionics solutions and services to the aeronautical industry, with a focus on maximizing aircraft crew safety and mission performance. This includes the acquisition of extensive expertise on fly-by-wire flight control systems (FCS) through working closely with aeronautical industries in the civil and defense sectors. Our competitive advantage comes from expertise in the design, development, testing and validation of flight control and navigation systems.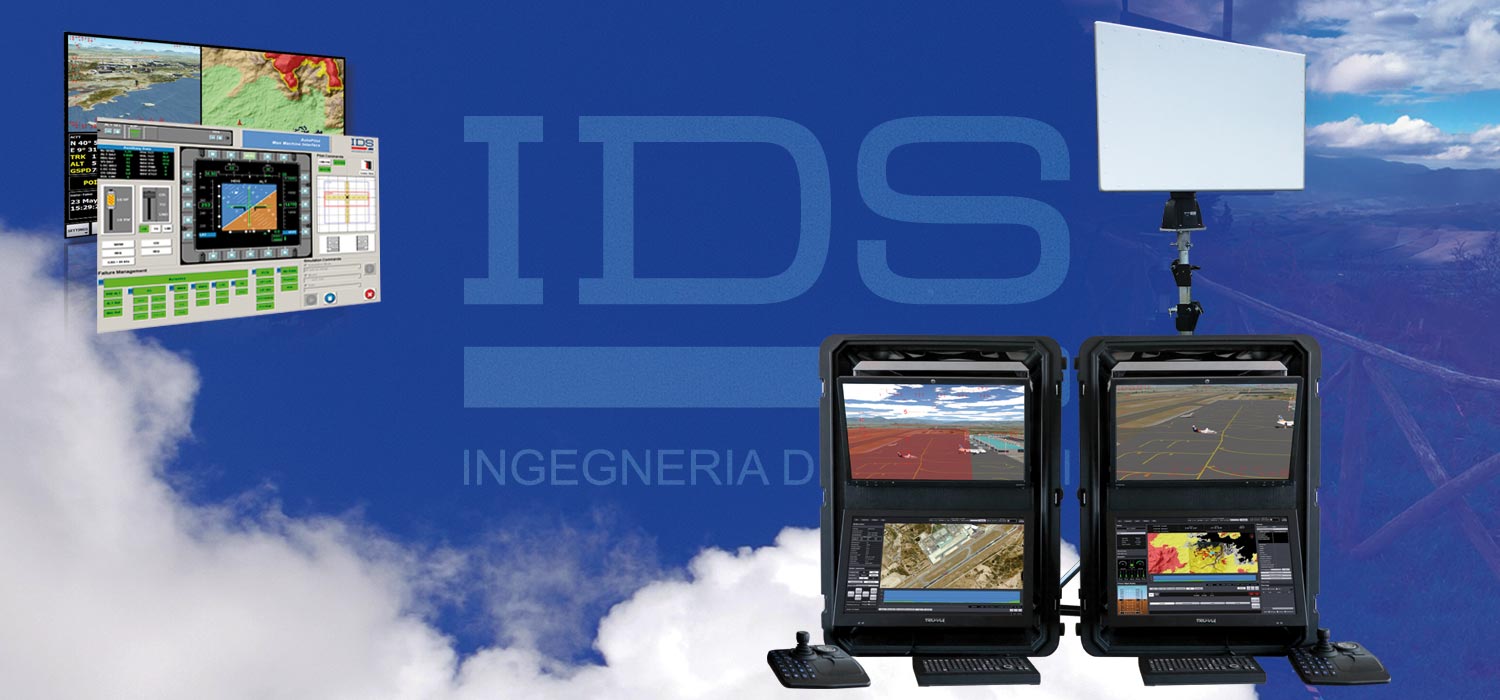 IDS, a high tech integrated solutions services company, offers consultancy and services for both traditional and fly-by-wire (FBW) flight control systems (FCS). Our expertise ensures complete customer assistance for the design, development, verification, validation and certification phases. In particular, IDS offer expertise on the definition of FCS and avionics systems/subsystems requirements, architectural design, and the development of control laws by means of software design tools, and engineering flight simulators and rigs, using a model based design approach in compliance with RTCA/DO-178C Level A. We also provide support for the development of redundancy management algorithms, safety analysis of complex systems and the development of autopilots and flight directors for fly-by-wire aircraft.
IDS has also developed diverse avionics software frameworks capable of supporting pilots with navigation, aimed at removing poor visibility and ensuring the operational benefits of clear day flight operations irrespective of actual outside visibility conditions. These solutions increase performance while decreasing workload in the cockpit. Examples of software development capabilities include RTCA/DO-178B Level B Certifiable Digital Moving Maps, RTCA/DO-178B Level B Certifiable Synthetic Vision Systems (SVS) and RTCA/DO-178B Level C Certifiable Terrain Avoidance and Warning Systems (TAWS).
Experience with the development of certifiable digital maps led IDS to also developing systems that merge tactical moving maps with on-board EO/IR turrets to provide a tactical overview that provides the advantages of interactive map controls and visualization functions.
In addition, in parallel with the development of UAVs, IDS used its knowledge of avionics to develop ground control stations (GCSs) for both piloting UAVs and also to control and manage payloads. A simulator environment can also be embedded in the ground control station, offering training for pilots and payload operators as well as planned missions to be virtually flown and if necessary modified.
UAV Ground Control Station
GCS provides an interface which can be used to control and monitor single or multiple UAV missions.
Certifiable Digital Moving Map
The Certifiable Digital Moving Map renders representations of any geographical area where the aircraft is positioned.
Horus – Tactical Moving Map Systems
Horus is a product which integrates tactical moving map software with cutting-edge EO/IR turrets in touch-screen display with advanced sensor-data fusion technologies.