IDS offers a number of off-the-shelf smart material panels for
electromagnetic engineering
requirements in the civil and military fields.
They are customizable to different electric (e.g. frequency or angle) and environmental requirements, and are certified according to the applicable standards (civil and/or military e.g. MIL-ST-810) for prolonged use in the relevant operating environment.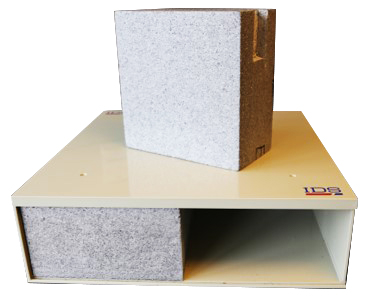 An instrument landing system (ILS) allows aircraft to land in low-visibility by providing guidance by emitting a modulated signal. The ILS signal can be dangerously corrupted by the presence of big hangers and buildings in the vicinity of runways, and provide unexpected multipaths on the ILS signal.
IDS provide a combined technical consultancy and smart material solution to tackle this problem. The technical consultancy for the electromagnetic design of airports, supported by the EMACS EM prediction software, a CAE tool specifically developed to support the user in the electromagnetic design of airports in accordance with the International Civil Aviation Organization's (ICAO) normatives.
The smart material, RM-VHF-001, is a thin, lightweight, absorbing material tuned to the ILS frequency and certified according to civil regulations. It has been engineered for environmental requirements and can be customized with external camouflage to help it fit in aesthetically with its surroundings. Most common materials and decorations are available and custom requirements can be satisfied on request.
Smart materials can make a large difference to the operational capabilities of a naval vessel. They can be used during a mid-life refit to transform a ship originally designed without a radar signature requirement to one with a controlled and improved radar cross section (RCS). They can also be used in the design phase of a new vessel, thereby relaxing the requirements for the superstructure's shape. Finally, smart materials can be used to reduce electromagnetic interference between various onboard systems, such as transmitting antennas and electronic warfare support measure antennas.
RM-MB-001 panels are based on thin, light weight, composite slabs that mitigate the main scattering centers. Optimized for the C-X or X-Ku-K bands and an incidence of up to 60°, they are certified according to MIL-STD normatives. They can be customized (e.g. with Kevlar, glass or HDPE high-density polyethylene) to suit other requirements such as environmental (e.g. salinity, fog, rain or the temperature of impinging gases), ballistic and economic constraints. The installation design of the panels can be optimized using the IDS Ship EDF electromagnetic simulation software.
TBC
RM-S-001: S band radar absorbing material for use near PRS (primary surveillance radar). The material is thin, light and has a low aesthetic impact due to a fully customizable finish. They are certified according to civil regulations.
Naval vessels can suffer from strong interference between on-board transmitting (TX) antennas (e.g. Satcom systems) and wide band ESM antennas (electronic warfare support measures) as well as other sensitive receiving devices.
SS-MB-001 is a soft surface smart material that can be used to make specially designed shields to mitigate the interference, without requiring any operational limitations to be imposed on either the interfering or the susceptible systems. The material is thin and lightweight, and is certified to MIL-STD normatives.
The installation design of the panels can be optimized using the IDS Ship EDF electromagnetic simulation software.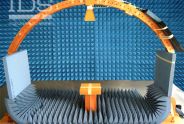 RCS, antennas, EMC/EMI and IR signatures measurement services