Vehicle mounted IED and mine detection and classification
Minerva is a ground penetrating radar-based integrated protection system for the detection of Improvised Explosive Devices (IEDs), mines and roadside bombs. Its ability to maintain a high detection probability and an extremely low false alarm rate, even at convoy speeds, makes it an ideal tool for mobile military protection, especially of convoys and motorized patrols.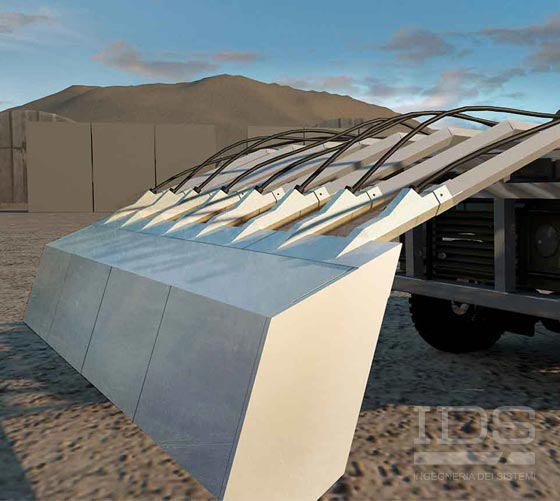 Minerva's sensor suite is integrated with a central processing unit for real-time mapping with IDS automatic target recognition algorithms to aid identification and classification of detected metallic and non-metallic anomalies and to facilitate decision making.
Minerva can be installed on various tactical combat vehicles, including unmanned ground vehicles (UGVs), for deployable, on-the-move route-clearance and convoy safety and protection.

Counter Mine
Counter mine operations

ROUTE CLEARANCE
To secure important routes and render them for safe transport.

CONVOY PROTECTION
Convoy & force protection

VIP Security
VIP Protection
Minerva – TECHNICAL SHEET
| Specifications | Values |
| --- | --- |
| Dimensions (1 antenna module) | ~ 80x80x40 cm |
| Weight (1 antenna module) | < 15 kg |
| Nominal antenna standoff distance | 40 cm |
| Targets | IEDs lying on the surface or buried down to 30-50 cm |
| Detection width transversal to track | 80 cm each module (e.g. 3 modules = 240 cm) |
| Typical Speed | > 15 kph |
Antenna array with mechanical support (system is configurable from one up to 4 modules)
Control and acquisition electronics
User interface on "Toughbook"
The user software has 3 operational modes:
RUN Mode
On the move data acquisition mode
Automatic detection and alarm generation
PAUSE Mode
Activated automatically when the vehicle stops (returns to RUN mode when the vehicle moves off)
The acquisition systems are active but when the vehicle stops, no data is acquired
Useful to analyze data in potentially hazardous situations
STOP Mode
Provides access to all visualization and analysis modes
Ability to view data acquired at any earlier time using a scrollbar
IED classification
Route clearance operation mapping
The system is significantly resilient to external in-band interferences (e.g. communication jamming)
Metallic and non-metallic objects can be effectively detected
High resolution (ultra-wide bandwidth) enables the production of detailed images of the detected object
High dynamic range and high signal stability provides improved sensitivity to detect weak signals in high attenuation soil
A low internal system clutter profile enables clean raw data acquisition
The user interface provides intuitive and reliable information during real-time acquisition

the PROuD project has received a Single European Sky Awards 2017 "special mention for performance and safety" during the World ATM Congress in Madrid!

IDS is pleased to show you the PROuD Project video, the European SESAR large scale demonstration project developed to improve emergency medical and rescue helicopters flight operations in challenging weather conditions or environments.