IA-17 is a small fixed wing UAV
The IA-17 is a small fixed wing UAV whose flight configuration has been designed in order to provide the best performance when employed for patrol, surveillance, aerial observation and reconnaissance missions.
Propulsion is provided by a 2-stroke gasoline engine and the lift and control surfaces are optimized to achieve maximum endurance and a high cruising speed. The IA-17 is constructed of a fiberglass shock-proof airframe which meaning that the airframe is lighter, stronger and less affected by corrosion and fatigue. A fiberglass airframe also provides the advantage that it lasts longer, meaning lower maintenance and replacement costs.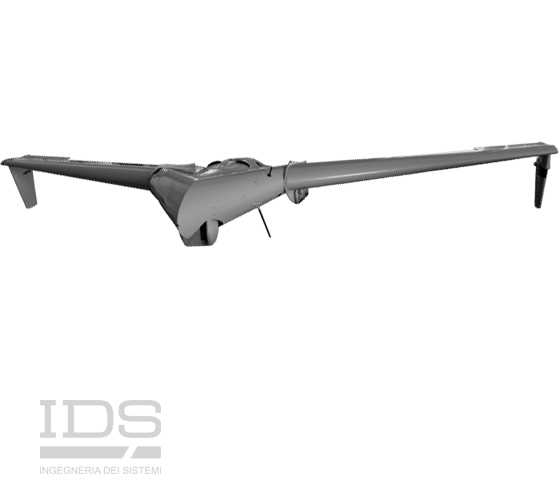 The modular construction of the platform offers the capability to easily install different sensor payloads in the nose section of the IA-17 allowing the system to be employed in the optimum configuration according to expected mission and scenario conditions.
The modular nature of the body, wings and motor section also allow any damaged or malfunctioning section or a section requiring scheduled maintenance to easily be swapped out.
Monitoring & Inspection
Pipeline, Power Line, Power Plant, Infrastructure and Hazardous Area Inspections
Surveys & Photography
Environmental and Scientific surveys, Precision Agriculture, Photogrammetry and Aerial Mapping
Law Enforcement
Aerial Investigations, Pre-operation Visual Assessments, Crowd Control Forensic-oriented Audio, Video and Picture Capturing
The IA-17 is launched via a catapult system that can be prepared in under 15 minutes and then dismantled in a similar time. Without the need for an external power supply, the catapult system is versatile. It can also be operated in wet or sandy conditions as well as in winds up to 10m/s. For safety and security, the IA-17 can be launched via remote control.
A parachute allows landing on unprepared terrain enabling operations in the most complex environments. It also ensures that landing is performed in a safe and recoverable manner. The system can also be used for emergency landings in the case of unscheduled events.
Download the IA-17 Brochure
IA-17: the UAV designed to provide the best performance for patrol, surveillance, aerial observation and reconnaissance missions
PERSISTING ISR CAPABILITIES
Designed to support long endurance area patrols and reconnaissance in day or night time conditions with real-time transmission of data to the operators, the IA-17 UAS in reconnaissance configuration is equipped with fully gyro-stabilized pan/tilt/zoom EO/IR camera turret featuring continuous 360° rotation. The platform is equipped with a gyro-stabilized airborne sensor with a 15x zoom CMOS sensor for daytime operations and 4x thermal imager for nighttime activities.
WIDE AREA AERIAL MAPPING
Large area surveys and data collection from target locations for analysis, mapping, change detection and 3D reconstruction is enabled by the adoption of a photogrammetry package which employs a digital camera with a full frame 100 megapixel sensor and selectable 40, 50, 70 or 80 mm lens. The electronic camera management and control system integrates its own high-precision IMU and GPS for geo-referencing acquired images.
Modular, lightweight and robust composite body (aramidic and glass fibre)
Versatile mission-driven system composition
Easy-swap payload bay
Ground mission planning and full autonomous flight with the capability to manually intervene at any time
Encrypted digital link for telemetry data and control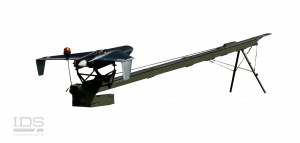 CATAPULT TAKEOFF SYSTEM
Ready for launch and disassembly in no more than 15 minutes
operates without any external power supply
operates in wet/sandy conditions
can launch in wind conditions up to 10 m/s
launch command can be remotely provided
| Specifications | Values |
| --- | --- |
| Overall Length | 1270 mm |
| Wingspan | 2800 mm |
| Height | 215 mm |
| Take-off Weight (max) | 27.5 kg |
| Payload | 2.5 kg |
| Maximum Speed | 160 kph |
| Endurance | 5+ hrs |
| Propulsion | Gasoline Engine |
| Operational Ceiling | 4,500 m |
| Mission Radius (D/L) | 80 km LoS |
CATAPULT TAKEOFF SYSTEM
Ready for launch and disassembly in no more than 15 minutes
operates without any external power supply
operates in wet/sandy conditions
can launch in wind conditions up to 10 m/s
launch command can be remotely provided
Ground Control Station
Scalable and customizable software/hardware interface (console or portable GCS Options)
Full HD graphical user interface
Mission planning capability
Real-time mission management
STANAG 4586 protocol compliant
Optional touch screen human machine interface (HMI)
Advanced moving map features
Eye-on-target feature
Multiple platform control
DATALINK (TRACKING ANTENNA)
UAS Control Data-link:
Customizable frequency according to customer standards
Secure encrypted transmission (optional)
Long-range coverage (up to 60 km)
Payload Data-link:
Coded Orthogonal Frequency Division Multiplexing (COFDM) technology, DVB-based
Long-range coverage (up to 60 km) with multipath immunity
1 full HD video transmission
State-of-the-art compression technologies (H.264)
Secure encrypted transmission
GPS based auto-tracking capability