A radar-based system for the detection and classification of unmanned aerial vehicles
Black Knight provides protection against the hostile or unauthorized use of unmanned aerial vehicles (UAVs) for both civil protection and military protection. It is a radar-based system that is able to detect and locate both fixed wing and rotorcraft UAVs of Class I (mini or small) and larger. It can either be installed in a fixed location to provide permanent or semi-permanent protection or it can be mounted on a trailer for quick to set up mobile use. Black Knight provides full 360° coverage, day or night, as well as in adverse weather conditions.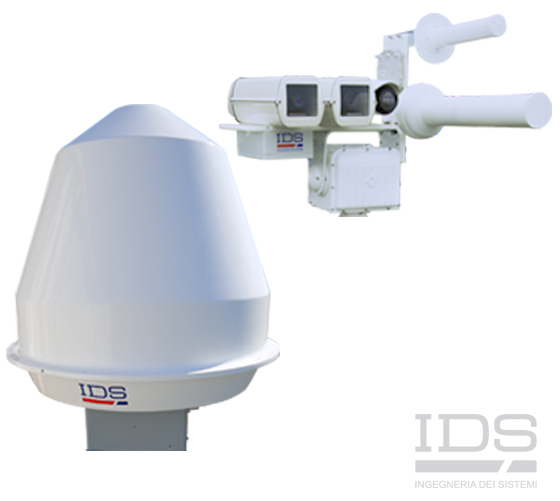 The Black Knight radar system can also incorporate an optional EO/IR turret and a multiband jammer. These additions, which are fully integrated as part of the system, provide enhancements to the tracking and identification capabilities of the system as well as a countermeasure option for full safety and protection.
Black Knight can help to provide protection and security in a number of environments, both civil and military. It can be used to detect and locate the unauthorized or unsafe use of UAVs in controlled airspace or potentially dangerous situations and can also provide defense against hostile uses of UAVs

Building Protection
Airport, Governament Buildings (ministries, embassies ... )

Critical Infrastructure
Protection of oil, gas and electricity facilities, dams and transport hubs

Public Event Security
Vip appeareance, public and major sporting events, gatherings

Military Protection
Forward operating basess, military airfields, convoys and motorized patrols
Black Knight - Main Benefits
Black Knight  – TECHNICAL SHEET
Detection of Class I (< 150kg, mini and small) UAVs or larger
Multiple target detection
Threat classification

Type of UAV: fixed or rotary wing
Velocity measurement
Measurement of hovering rotary wing UAVs based on propeller Doppler
Measurement of radar cross section

Multi-target tracking radar (multi target Track While Scan (TWS) – 2D)
Detection probability: 90%
Detection of mini-class UAVs at up to 2 km (larger UAVs can be detected further out)
Optical/Thermal tracking within a range of 1 km
Neutralization > 1 km
360° coverage
Maximum operational weight < 100 kg meaning that the system is:

transportable
vehicle integrable
mountable on a trailer

Independent power supply
The Black Knight UAV detection and location system consists of:
X-band Radar
Command Console
Power Supply Unit
EO/IR Camera * (for enhanced identification and tracking)
RF Jammer * (to provide a countermeasure that affects the UAV's command and control, data communication and navigation systems)

the PROuD project has received a Single European Sky Awards 2017 "special mention for performance and safety" during the World ATM Congress in Madrid!

IDS is pleased to show you the PROuD Project video, the European SESAR large scale demonstration project developed to improve emergency medical and rescue helicopters flight operations in challenging weather conditions or environments.