An advanced system to measure the radar cross section (RCS) of flying aircraft in operational environments
FARAD is a prototype electromagnetic measurement radar system which is designed to perform dynamic RCS measurements of high-speed low observable flying targets, including those featuring stealth technology. The system is customizable and expandable and only requires a short time to acquire accurate measurements.  It is able to measure a wide range of targets, from full size aircraft and helicopters to very small unmanned aerial vehicles (UAVs). The embedded target tracking capability is optimized for short range RCS dynamic measurement of flying targets. When being measured, the target aircraft flies planned trajectories and is automatically tracked by FARAD.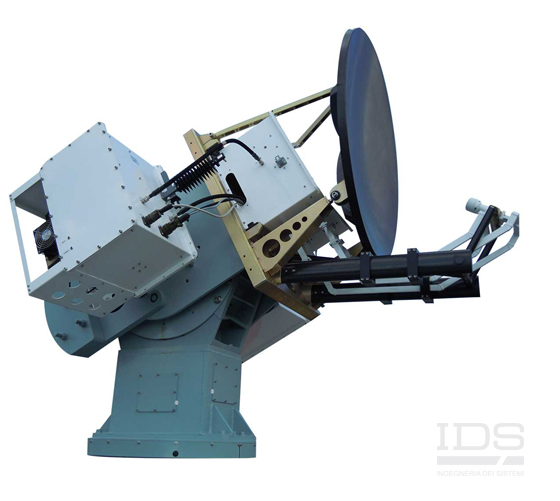 The radar, tracking equipment and the cabin for its operators, and control and monitoring equipment, are all part of a rugged integrated system designed for all-weather outdoor use. They are self-powered, highly transportable and fast and easy to set up without the need of any preparation at the test site.
RCS measurement
Measurement system for flying aircrafts
Target tracking
An embedded radar target tracking capability
High accuracy
High sensitivity and accuracy in order to measure stealth targets
FARAD can be utilized for a wide range of applications and by several types of user including aircraft and unmanned aerial vehicle manufacturers, air forces and Electronic Counter Measure (ECM) manufacturers:
>
For the Final Acceptance Test of a new target
For extraordinary maintenance during the target's life cycle management
For ordinary maintenance during the target's life cycle management
For the design, development and testing of ECM devices (jammers, chaff etc.) for the target's self-protection
FARAD can be deployed along a runway at an air force airbase and operated immediately after a take-off or immediately before a landing, therefore minimizing the target's operational flight costs (no need for a dedicated flight mission).
Download FARAD Brochure
FARAD is a flexible radar system which is designed to perform dynamic Radar Cross Section (RCS) measurements of stealthlike flying targets.
Includes powerful post processing capabilities integrated in a unique software tool and database capability
High sensitivity as a result of extremely fast waveform generation (Direct Digital Synthesizer chirp) and the use of coherent and non-coherent integration
An embedded radar target tracking capability
High sensitivity and accuracy in order to measure stealth targets
Features two hardware channels and complete software suites for processing and displaying measured data in real time
Typical example camera specifications include:
Mid-Wave Infrared (MWIR) camera specifications:
Tecnical Specs

Values

Target tangential speed:
250m/s
Frequency range:
8.5 – 10.5 GHz
Polarization matrix:
HH or VV
Sensitivity:
-30 dBsm @ 10 km
Built-in radar tracking for Azimuth Angle, Range and Doppler
Can be slaved to an external tracking system (e.g. GPS, ground telemetry)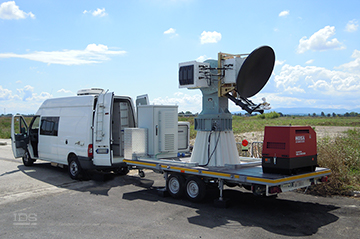 FARAD consists of two modules which are transportable by a single van and trailer:
The antenna subsystem is mounted on an equipment trailer and includes an RX/TX radar antenna assembly, target tracking equipment and positioning equipment.
The van houses the control equipment and post processing computers.