A radar based gap-filling surveillance solution for airports, enabling implementation of UTM concepts
The use of UAVs or Drones is becoming more and more common place in the civil domain. With their increasing availability and reduced costs, they are no longer just operated by major defense bodies, but also by other professionals and amateur hobbyists who are often unaware of, or ignore, regulations and basic aviation safety requirements, therefore causing potential risks to aviation.
NO-DRONE is an integrated system aimed for detecting, tracking, identifying and classifying cooperative and noncooperative drones flying in the proximity of airports. It is a radar based system that detects and locates all classes of fixed wing and rotory drones.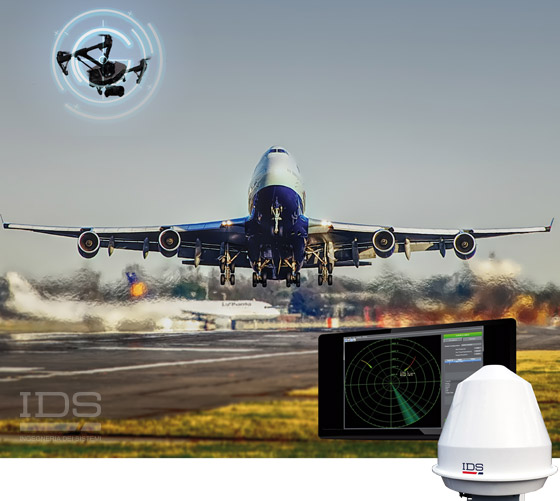 NO-DRONE radar provides continuous operation with all-weather day and night full line of sight 360° coverage.
The radar system can also be upgraded with an optional EO/IR turret for visual verification. This is fully integrated into the system to enhance the identification and recognition capabilities of the system.
The system can either be installed in a fixed location to provide permanent or semi-permanent protection or mounted on a trailer or vehicle for rapid temporary deployment.
The safe and smooth deployment in the airport environment is further enhanced by the use of the long established IDS EMC/EMI simulation tools for predictive assessment of possible interference between various radiating and receiving elements around the airport. This models any potential inference with and from any existing NAVAIDS and COM equipment, allowing the operations personnel to locate the system so as not to impact on safety of operations, and at the same time maximize radar coverage.
NO-DRONE integrates the latest IDS simulation software for deployment support in its command console.
Airport safety and security system
surveillance of airport movement areas, runways and approach/departure paths
NO-DRONE Radar for Drone Detection Main Benefits
Download the NO-DRONE radar-based system
An integrated system for detection of drones flying in no-fly zone.
Full line of sight 360° coverage of the aerodrome
Multi-target radar tracking
Target recognition, identification and classification
Can be fully integrated with complimentary technology (RF, Optical, etc.)
Surveillance of airport movement areas, runways and approach/departure paths
Cooperative setup with the airport environment (EMI/ EMC analysis)
User-defined selection of radar sector blanking areas
Uses a standard data format such as Asterix
Interoperability with ATC Systems