A radar-based solution to detect and locate hostile small arms fire
HFL-CS is a radar-based solution that provides automatic hostile fire detection and localization of the source of small arms fire, from 5.56mm caliber up to rocket propelled grenades. It calculates a projectile's trajectory and in less than 3 seconds is able to locate the direction and range of the point of origin, as well as classify the type of threat by its caliber.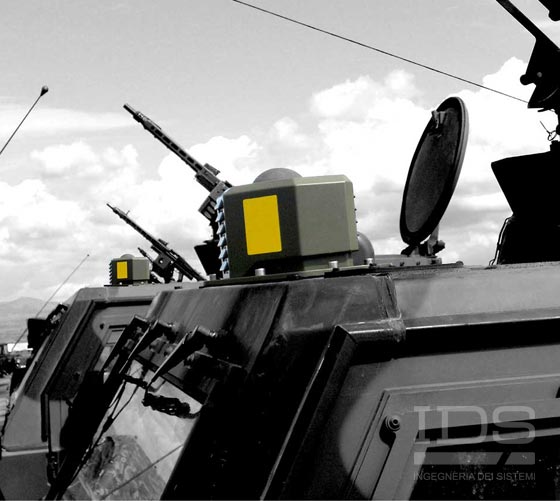 As HFL-CS is radar based, it overcomes some of the limitations of alternative acoustic solutions. It is unaffected by high background noise or acoustic echoes in urban environments and can be operated at night and in low visibility conditions such as smoke, dust, rain and fog.
HFL-CS is a modular system and can be configured to provide safety and protection in a fixed location or on the move mounted on a vehicle. It can also be integrated with an unmanned ground vehicle (UGV).

Civil & Military Protection
Protection of military or civilian convoys and fixed positions (such as forward operating bases)

VIP Protection
Protection of VIPs at public appearances

Critical infrastructure
Protection of oil, gas and electricity facilities, dams and transport hubs
HFL-CS  – TECHNICAL SHEET
Non-rotating AESA (Active Electronically Scanned Array) radar
Interoperable with common ISTAR systems and onboard equipment
Quick response time (<3 sec from threat detection to source location)
Compact and mobile, can be installed in a fixed location or mounted on a vehicle or UGV for tactical applications
Measures radial speed, azimuth, elevation and range
Estimates a projectile's trajectory
Estimates the source of fire
Automatic threat classification (bullet, RPG)
Detects both subsonic and supersonic ballistic projectiles
Performance doesn't degrade in case of subsonic bullets
| Specifications | Values |
| --- | --- |
| Threat Types | Caliber: ≥ 5.56mm |
| Frequency Band | X Band |
| Radar Power Supply | 36 VDC |
| Interface | Gigabit Ethernet |
| Operating Conditions | All Weather Conditions |
| Computed Output | Center of the Origin of Fire |
| Azimuth Coverage | 120° (360° with 3 Modules) |
| Elevation Coverage | 30° |
| Dimensions | L: 470mm W: 220mm H: 240mm |
| Weight | 18kg |
In a standard fixed location configuration, the HFL-CS radar system consists of:
Non-rotating X band AESA (Active Electronically Scanned Array) radar
Power subsystem
Subsystem for geo-referencing, synchronization and distribution of signals
Console subsystem
Radar elevation subsystem
Shelter subsystem