A configurable, state of the art, ground-based aircraft tracking system for ADS-B out applications
airDome is an ADS-B air traffic surveillance system that assists with air traffic management by supplementing radar coverage and providing better quality air traffic services (ATS). It is a cost effective and efficient surveillance solution when radar coverage is limited or non-existent (gap filling) for en-route and terminal airspaces as well as in an airport environment.
It is composed of antennas, receivers and a visualization system. A range of antennas is available to best meet installation needs and several antenna patterns can also be tailored according to operational requirements.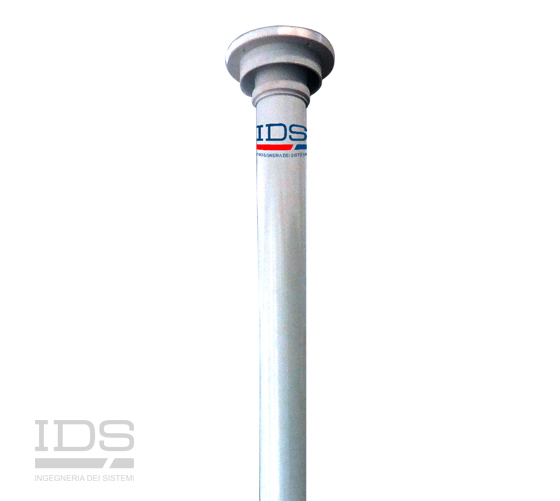 Multiple receivers can be connected to the airDome network, both to provide redundancy and to extend the area covered, especially in low altitude airspaces and remote areas. The receiver architecture can be configured to match requirements, ranging from a fully redundant, remotely controlled solution with an embedded self-diagnostic system to a basic, standalone receiver.
Coverage in remote areas
A low cost aircraft surveillance solution in remote areas
Supplement radar coverage
Improves ATS services by supplementing radar coverage, especially in high traffic areas
Fill radar gaps
Offers an effective alternative in areas with no radar coverage
Air Traffic Control (ATC) services require up to date information on the identity and position of aircraft in their sectors. This is especially important in terminal airspaces where traffic is normally denser. This coverage is normally provided by a network of primary and secondary radars, however this is expensive and in some areas radar coverage can be limited or non-existent. Automatic Dependent Surveillance –Broadcast (ADS-B) is a system where aircraft use satellite location and then periodically broadcast data such as their identification, current position, altitude and velocity. ADS-B Ground stations can therefore pick up these signals and provide the data to ATC, supplementing any radar coverage and providing ATC with additional information on the location of aircraft.
airDome  – TECHNICAL SHEET
Advanced CWP-like display unit;
Wide range of antennas: compact solutions for local area control, high gain collinear antennas for wide FIR, sectorial antenna arrays for surveillance in areas with dense air traffic
Fully configurable receivers: the option to have one or more receivers in a single unit allows scalability, redundancy and the ability to connect to sectorial antennas for high traffic surveillance
Processing of DO-260/A/B Mode S ES messages
ASTERIX CAT021/CAT023 report generation
Ability to also detect and decode mode C and S transponders
Centralized data processing in case of multiple ground stations
Full remote control
Full remote diagnostics and software updates
Up to 150 aircraft per second per receiver
High immunity to interference
airDome is a scalable and modular system which can quickly be reconfigured with optional receivers, antennas and display units to suit specific requirements or constraints. The basic version is composed of 1 antenna and 1 receiver. A display unit is recommended but is optional.
Component

Basic Version

Options

Antenna
Collinear, omnidirectional, 7 dB gain with embedded LNA and obstruction light

10 dB collinear, Upward or downward tilted beam
Whip
10 or 12 dB Sectorial
Array of 4 sectorial antennas

Receiver
Local control, ADS-B only Power Supply 220 Vac or SLA Battery 24VDC 100 Ah

Remote control and diagnostics
Mode C and S transponder detection
VDL-4 re-configurability
Wireless data link

Display Unit

Aircraft position
Aircraft identification
Velocity vector
Halo
Distance evaluation
Past positions
Possibility to import and display airspaces, routes and procedures
Received signal control
Display of 3D coverage area
Identifies aircraft close to coverage boundary

Processing unit for data fusion from different sources
Remote receiver control and diagnostics
Error: Contact form not found.