The professional solution for inspecting, simulating and modeling the electromagnetic features of communication, navigation and surveillance equipment
EMACS, Electromagnetic Control and Survey, is an AIM (aeronautical information management) tool that applies advanced simulation techniques to perform airport and Enroute electromagnetic environment analysis as well as airport and en-route electromagnetic site verification. This includes performance assessment of any existing Communication, Navigation and Surveillance (CNS) equipment, prediction of the effects on navigational aids (NAVAIDs) by the placement of a new structure and also NAVAID placement analysis.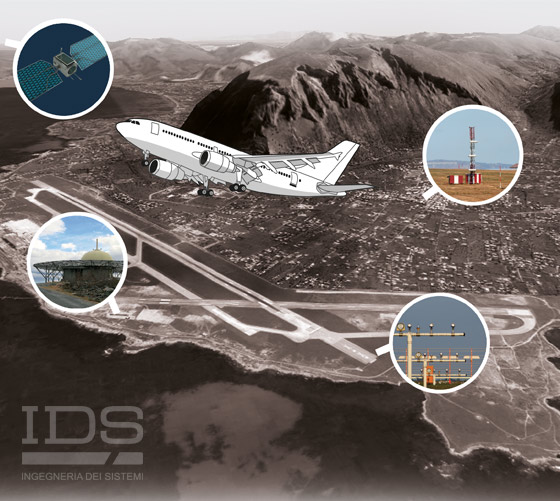 EMACS is fully integrated and interoperable with AIS/AIM data and is composed of a set of validated modular 3D modeling and simulation tools capable of tackling the electromagnetic compatibility (EMC) and electromagnetic interference (EMI) issues that occur within the complex environments of airports and air navigation sites. It enables the user to calculate and simulate the same electromagnetic features of installed NAVAIDs that are typically inspected during commissioning or standard periodical flight checks.
EMACS allows the user to create a numerical model of the equipment under analysis, either current or proposed, and an electromagnetic model of the environment surrounding it. It then performs a numerical analysis on the data provided and generates a visual representation of the computed electromagnetic field and the associated air navigation qualities (e.g. DDM, coverage limits). EMACS also has built-in parameter tools to simulate the behavior of on-board aircraft receivers.
Airport Electromagnetic Environment
analysis
Airport Electromagnetic Environment
design and verification
EMACS - Main Applications
ICAO doc 8071 requires that the ANSP or airport performs annual flight calibrations (NAVAID flight checks) to check the performance of an airport's NAVAIDs
ICAO Annex 10 compliance analysis
Feasibility analysis of new or upgraded airports/equipment
CAA planning permissions
Support ATC with radar and NAVAID system siting
Interference, PSR/SSR coverage and radar maps
Airport master plans definition
3D modeling functionality includes terrain models, obstacles, interfering systems, ground and airborne NAVAID equipment characteristics etc.
Can investigate the performance of a variety of navigation systems including VOR, DME, ILS, ATC Radar, VDF and GPS systems
Based on a layer of graphical (CAD) and geographical (GIS) functions for constructing and visualizing 3D elements on a geographic continuum using all types of datum and projections (e.g. WGS84)
Radio coverage evaluation at a constant altitude or height and along a route segment
Antenna pattern definition and modeling
CNS equipment coverage redundancy assessment
EMACS is a modular system with each module devoted to a specific type of additional computational analysis (e.g. EMI risk analysis, wind farm impact assessment) or to a specific kind of equipment (e.g. ILS, DME, VOR).
The modules available for EMACS are:
VDF – VHF direction finding coverage analysis
Wind Farm – wind farm impact assessment
ASUV – RNAV performance assessment
ILS – instrument landing system precision analysis
VOR – VHF omnidirectional range precision analysis
DME – distance measuring equipment precision analysis
Radar – radar performance evaluation
Ground-Air Communications – VHF link analysis
EMI – electromagnetic interference evaluation around CNS equipment
MLAT – airport multilateration systems performance analysis and simulation