Ship EDF is a software framework conceived for the electromagnetic design of naval vessels. It is a comprehensive system capable of supporting concurrent electromagnetic design and assisting the optimization of naval platforms. It is a modular system which can provide coverage for EMC/EMI assessment including antenna placement and radiation hazard identification, as well as radar cross section (RCS) and infrared (IR) signature analysis.
Ship EDF-EME Module:
Ship EDF-EME provides a single environment for all the different tasks required to perform EMC/EMI analysis including structure and material modeling, simulation task management and result post processing. It provides an intuitive graphical interface for CAD manipulation and for displaying the results of post processing, as well as a database which provides efficient and stable management of all the data required for the design phase.
Ship EDF-EME includes the tools and solvers required to produce electromagnetic models covering the whole frequency spectrum of a modern naval ship and to perform EMC/EMI analysis of all aspects of a ship's integrated antenna systems including radar, communications, weapons systems and navigation. In addition it can perform various radiation hazard assessments including Hazards of Electromagnetic Radiation to Ordnance (HERO), Personnel (HERP) and Fuel (HERF) assessments.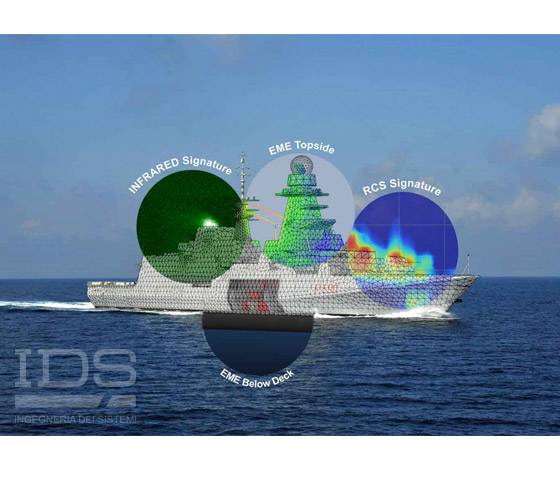 Benefits:
Complete solution with full band capability;
Fully customizable;
Part of the Concurrent approach offered by IDS through the Ship EDF solution that guarantees the right workflow and the best results while saving time and money;
Easy and intuitive graphical user interfaces;
Efficient and stable management of all data required during design phases.
Go to the video section to view film demonstrations of our naval solutions