Ship EDF is a software framework conceived for the electromagnetic design of naval vessels. It is a comprehensive system capable of supporting concurrent electromagnetic design and assisting the optimization of naval platforms. It is a modular system which can provide coverage for EMC/EMI assessment including antenna placement and radiation hazard identification, as well as radar cross section (RCS) and infrared (IR) signature analysis.
Below Deck Module:
Ship EDF Below Deck is a framework which aims to provide support in solving the electromagnetic compatibility (EMC) issues found in a ship's below deck environment. This environment consists of numerous different pieces of automation, command, control and communications equipment interconnected by thousands of cables. The Below Deck module provides a 3D graphical interface for generating a numerical model (mesh) of both a ship's internal compartments and 3D cable paths as well as an Oracle database for the management of equipment characteristics and storage of analyses.
Ship EDF Below Deck allows designers and ship builders to identify potential critical issues caused by EMI on cables and equipment during the early design phases rather than later in the construction phase or acceptance testing. This avoids the possible need for an expensive and time consuming re-wiring job.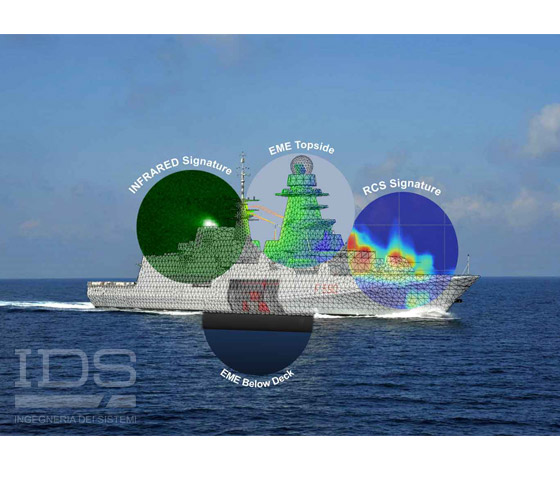 Benefits:
Unified environment to simulate 3D structure and cable routes
Cable cross section modeling integrated with full wave methods for EMI evaluation with respect to Above Deck Radiated fields
Part of the Concurrent approach offered by IDS through the Ship EDF solution that guarantees the right workflow and the best results while saving time and money
Easy and intuitive graphical user interfaces
Efficient and stable management of all data required during design phases
Go to the video section to view film demonstrations of our naval solutions