Simcenter Conference – Americas: IDS is ready!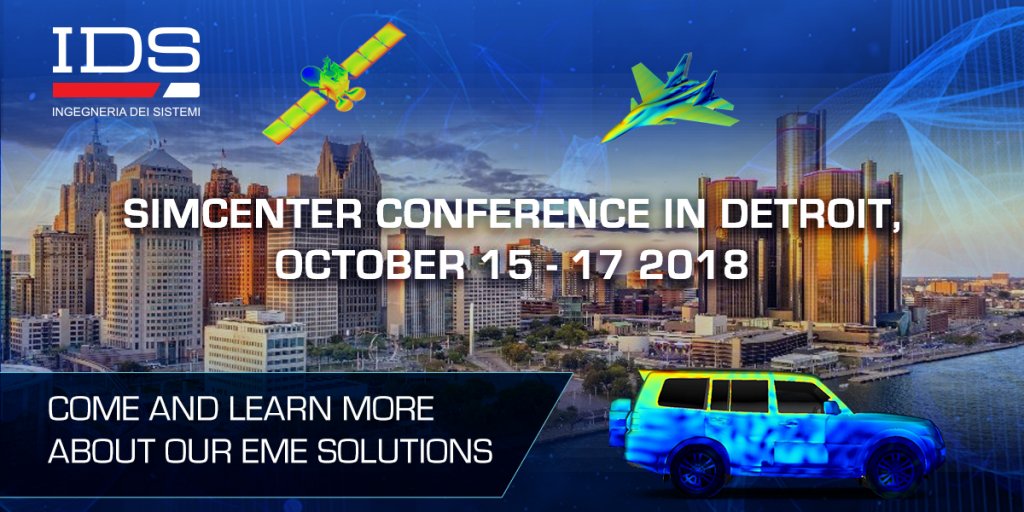 IDS Ingegneria Dei Sistemi S.p.A will be at the 2018 Simcenter Conference – Americas from 15th to 17th October, in Crowne Plaza Detroit Downtown Riverfront 2 Washington Blvd. Detroit Michigan.
The Simcenter Conference is a three-day event that contains over 100 presentations bringing together subject matter experts on simulation, test and design while exploringan industry themed agenda. .
IDS is pleased to invite you, on 16th October, to the presentation of the following two papers:
"A Modeling Approach to High Intensity Radiated Field – HIRF in Support to Aircraft Certification", Consumer Products & Retail, Electronics, Medical Device Track
"Physical and Virtual Testing Synergic Approach to ADAS Radar Performance Verification and Optimization", Automotive Track
Together we will explore how simulation and test are contributing to the realization of the Digital Twin, and examine how adopting a holistic approach to predictive engineering analytics is essential in developing innovative products that exceed customer expectations.
Discover more at: Siemens PLM Software, 2018 Simcenter Conference – Americas