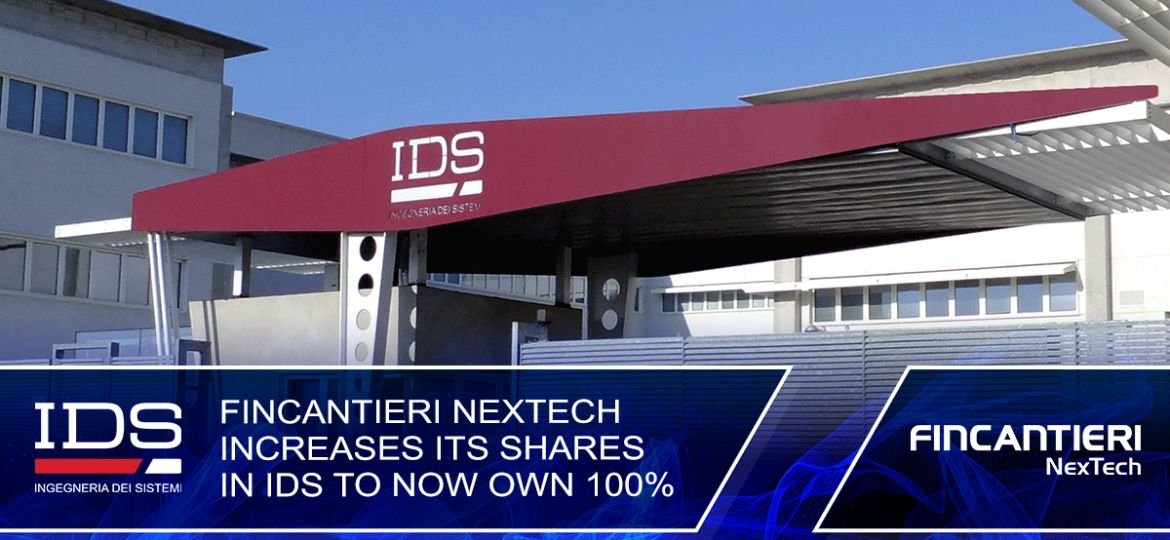 Fincantieri NexTech increases its shares in IDS to now own 100%
IDS Ingegneria dei Sistemi SpA is now 100% part of Fincantieri NexTech.
IDS is an experienced engineering and systems technology company providing research, innovation and products in Electromagnetic Engineering, Satellite Communications, Unmanned Systems and Radar fields.
Fitting perfectly with Fincantieri NexTech's expansion strategy to enter into electronics, maritime, defense and unmanned system applications, IDS's international footprint offers the group a platform to further develop its business worldwide.
Fincantieri NexTech SpA, part of Fincantieri Group, is a company of excellence that offers cutting-edge technological solutions in various fields: Maritime & Defence, Smart Infrastructures, Specialized Engineering, CyberSecurity & Digital Solutions. Fincantieri NexTech also provides specialized engineering services in the naval world, leveraging the skills matured through Research & Development, and in the specialist applications that are transversal across many application fields.
The engineering skills matured through developing high tech technological and system integration solutions make Fincantieri NexTech a reference player in the market where it operates, able to offer a portfolio of innovative, smart, safe, scalable and sustainable products and services. With about 800 professionals and experts working in Italy and abroad, Fincantieri NexTech provides highly specialized solutions to hundreds of clients on five continents.