IDS Workshop at INDICON 2016
16th – 18th December 2016, Bengaluru India.
IDS will be participating in the INDICON 2016 conference held by IEEE India Council. On the first day of the event, 16th December, Mr. Antonio Guidoni and Mr. Giancarlo Guida will be presenting a workshop on "Advanced Electromagnetic Modeling Techniques in the Aeronautical, Space and Naval Industries".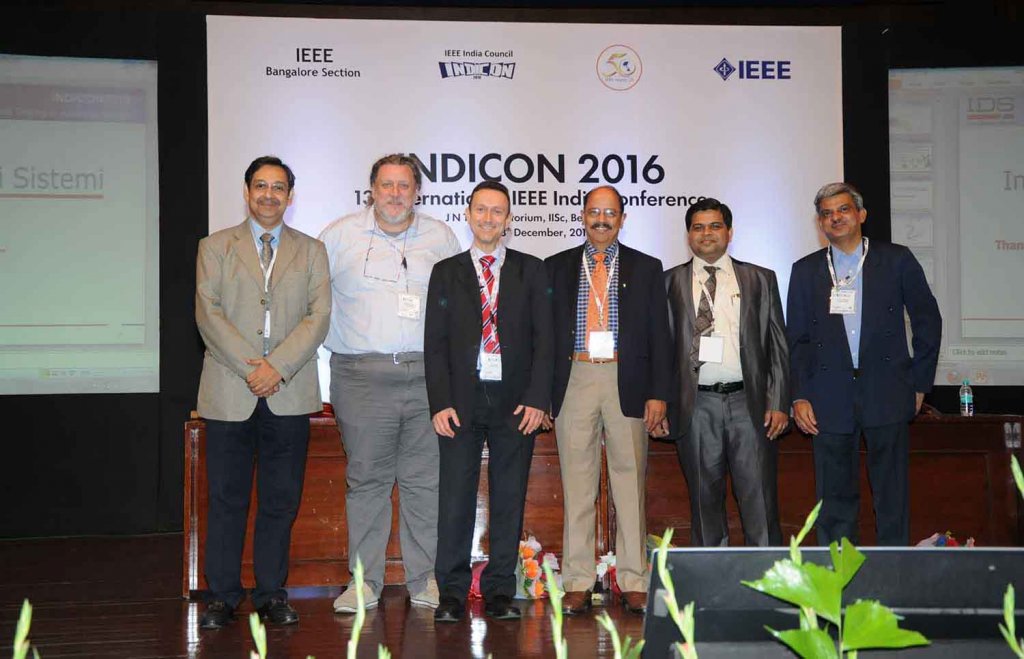 Electromagnetic modeling plays an essential role in the design and development of complex systems for many different applications. The continuous increase in new stimulating applications and the need to integrate more and more functionalities on complex platforms pose new challenges and requirements for the development of novel methodologies and procedures in electromagnetic modeling.
This workshop is aimed at presenting some of the latest achievements in the usage of advanced electromagnetic modeling tools for the aerospace, naval and new emerging industrial fields.
The workshop will be divided into three sections and there will also be a Live Demo of the numerical methods presented during those sections:
Synergy between Physical and Virtual Testing in Industrial Design
2:00 pm – 2:45 pm
Description: Advances in numerical modeling have permitted the introduction of Virtual Testing in the industrial design cycle. Obviously, Physical testing maintains its role in the verification phase and in assessment of the performance of the device. This paper investigates the less obvious synergies between the two approaches and how they can leverage and improve the industrial design flow.
The Expanding Role of Electromagnetic Simulation in Aircraft Type Certification
2:45 pm – 3:30 pm
Description: New regulations and new aerospace materials drive up the cost and complexity of type certification. Advances in simulation capability and validation accuracy have greatly increased the use of electromagnetic simulation as a method of compliance to combat the rise in cost and program schedules. In this presentation, we describe the new role for these tools along with how they can be used to enhance testing to reduce overall program cost, duration and risk.
Non-conventional EMC modeling for Space Applications and Non-conventional EM Measurement by UAS
4:00 pm – 4:45 pm
Description: The first part of this presentation will discuss the benefits of EM modeling for non-conventional EMC (electromagnetic compatibility) problems such as the modeling of antennas mounted on re-entry vehicles in the presence of plasma clouds and the analysis of the interaction between antennas and plasma plumes emitted by ion thrusters.
The second part of this contribution will present some of the IDS experiences in the area of EM measurement by unmanned aerial systems.
For more information on the IEEE INDICON 2016 conference and to register for the event please visit INDICON website.