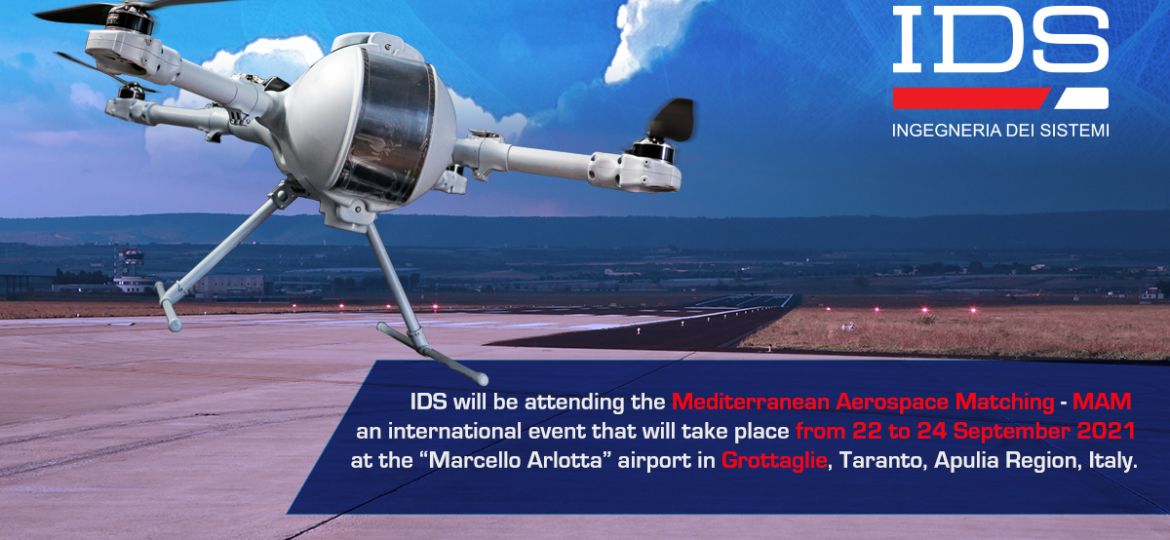 MAM 2021: IDS to present advanced Unmanned Systems Technology
IDS will be attending the Mediterranean Aerospace Matching – MAM, an international event that will take place from 22 to 24 September 2021 at the "Marcello Arlotta" airport in Grottaglie, Taranto, Apulia Region, Italy. At the centre of the MAM is the role of start-up and innovative SMEs in the aerospace field, in particular in the advanced mobility and smart cities sector with a focus on Unmanned Aerial Vehicle – UAV, infrastructures for the control and management of airspace and space technologies applied to drones (Earth observation, telecommunications and integrated applications, satellite navigation and global positioning).
IDS will showcase its range of Remotely Piloted Aircraft Systems – RPAS  to perform missions such as aerial, land and maritime surveillance, monitoring, inspections, surveys and photogrammetry.
At the event, IDS will also introduce the ACROSS Project. The project aims to develop a methodological and technological environment to ensure the safety of UAV operations and their integration within the civil airspace.
Apulia region play an important role in the aerospace sector at national and international level. This is confirmed by the numbers of companies (over 80), of employees (including researchers over 7,000) and the value of exports which in 2018 was 561.6 million euros, with an impact on national exports that exceeded 9.7%, and in 2019 an export turnover of 738 million euros, up by 31.8 % in 2019 compared to the previous year and an incidence on the national export result of 11.9%.
IDS invite you to come and learn more about our innovative unmanned technology at Stand N. 1 and stay tuned on IDS Linkedin