Defense Industry Fair, 18 – 21 June: IDS is ready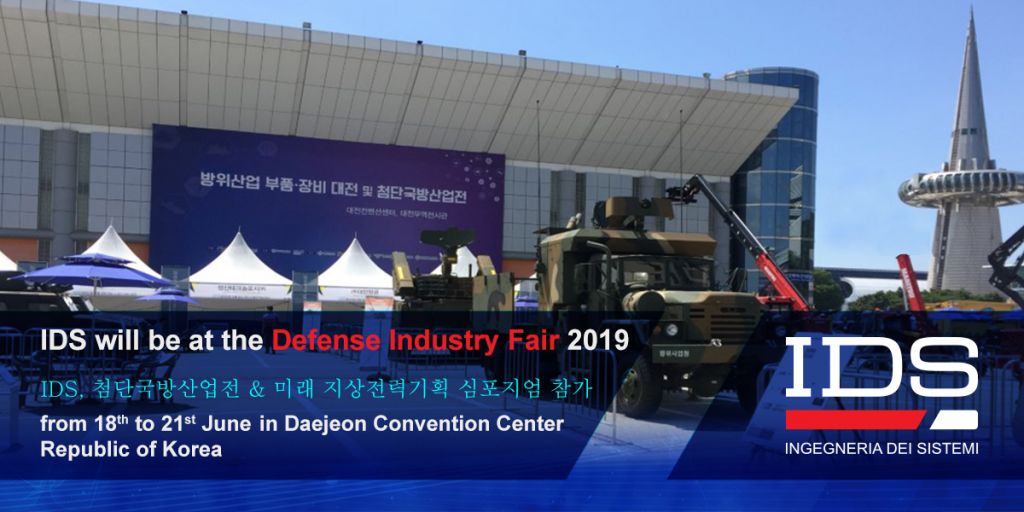 IDS's Korea team will be attending the Defense Industry Fair – DIF 2019 at the Daejeon Convention Center – DCC in the Republic of Korea from 18th to 21st of June.
DIF-19 will be an ideal platform for IDS to showcase its range of military, defense and homeland security products:
Black Knight, an innovative Radar Counter-UAV system providing protection and security against simultaneous and heterogeneous Low, Slow and Small – LSS threats in a number of civil and military environments. It can be used to detect and locate the unauthorized or unsafe use of UAVs in controlled airspace or potentially dangerous situations and can also provide defense against the hostile use of UAVs;
Hostile Fire Locator, radar-based solutions for the protection of FOBs, moving convoys, patrols and other military installations. Counter Sniper (HLF-CS) provides automatic fire detection and localization of the source of firing from small arms fire up to rocket propelled grenades, while Counter Mortar (HLF-CM) detects and locates the trajectory of mortar shells;
Minerva, a ground penetrating radar-based integrated protection system for detecting Improvised Explosive Devices – IEDs, mines and roadside bombs;
Electromagnetic solutions for aeronautical, naval and space applications, through a comprehensive range of electromagnetic prediction and design software products and  measurement systems, which together can provide a full selection of design, simulation, analysis, measurement and validation services for a wide range platforms;
Satellite terminal products for aeronautical and naval
DIF is one of South Korea's main Defense events scheduled for 2019 and is co-hosted by Daejeon Metropolitan City, the Training & Doctrine Command of the ROK Army, and the Defense Agency for Technology and Quality – DTaQ. The event will bring together some of the main players of the industry, showcasing their latest and most advanced technologies in the fields of Defense and Homeland Security.
Come and Join us to learn more about our innovative technology and stay tuned to IDS.