IDS will be present at the ICAO AVSEC, 18 – 20 September in Montréal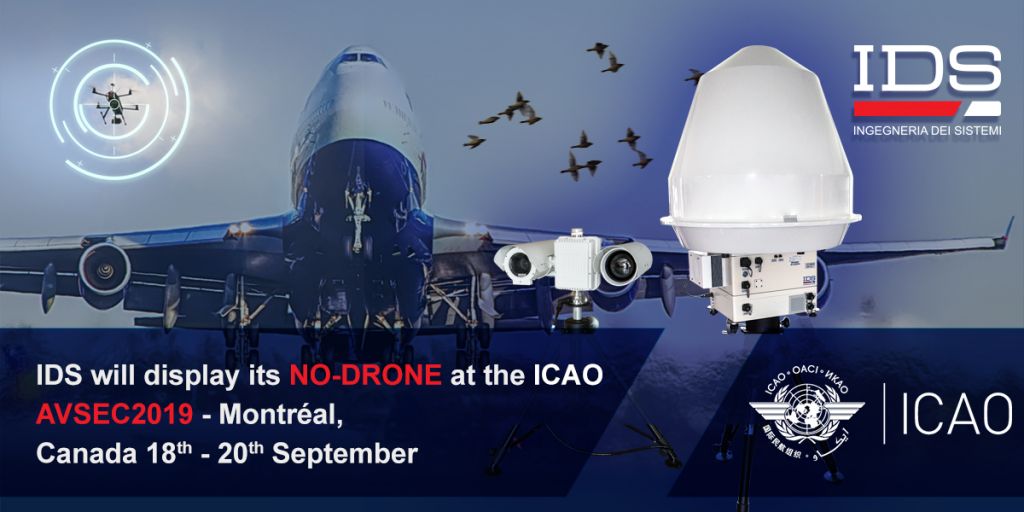 IDS will display its NO-DRONE at the International Civil Aviation Organization – ICAO Global Aviation Security Symposium – AVSEC2019, to be held in Montréal, Canada, from 18 to 20 September 2019.
IDS NO-DRONE is an integrated multi-spectral system aimed at detecting, tracking, recognizing and classifying small flying objects crossing the aerodrome's airspace. These may include simple avifauna or cooperative and non-cooperative UAVs.
Its core configuration integrates a mechanical scanning 360° radar detection, tracking and classification capability, together with EO/IR target tracking and recognition with multi-band inhibitors (RF disruptors),as well as interfaces with legacy airport acoustic dissuasive systems.
​​ICAO AVSEC will draw the preceding panel discussions on aviation security best practices. Industry Engagement Day will be hosted by ICAO and will bring together a select group of key policy and decision makers from States, stakeholders, and industry partners​ to participate in roundtable discussions and interactive dialogues.
Join our Canadian team and learn more about IDS's solutions for public security & defence domain.