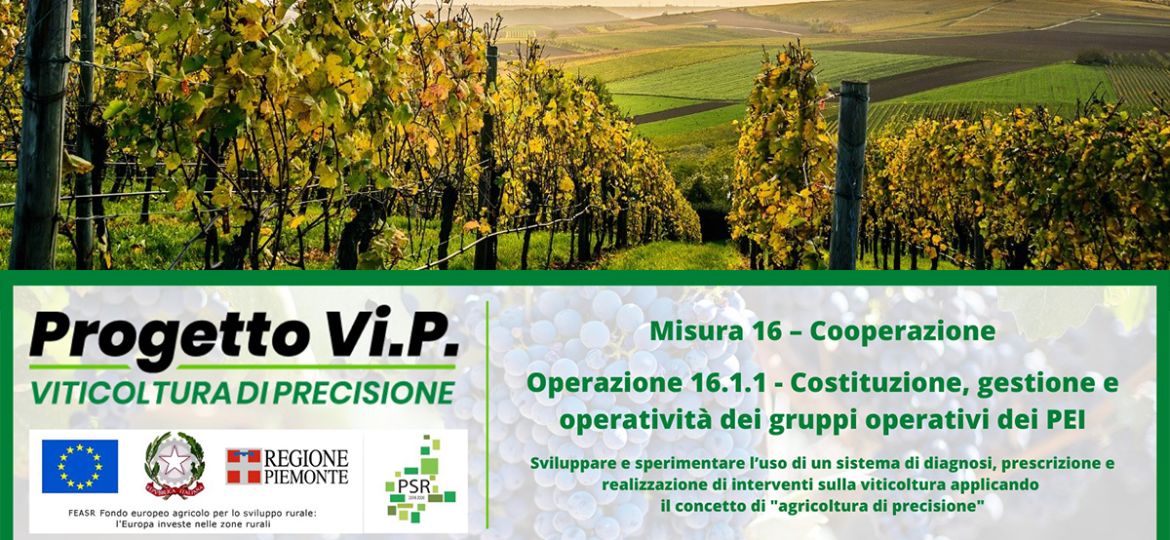 VI.P. Project: an incubator of innovative Multi-technologies for Precision Farming
One of the main challenges facing agriculture in the future is to cope with the effects of climate change, guaranteeing a constantly improved quality of agricultural production while safeguarding environmental and economic sustainability. In Piedmont, wine production is one of the most important agricultural sectors of the territory, with vineyards occupying a substantial portion of its hillside.
The sustainable management of the vineyard therefore, becomes one of the main steps towards guaranteeing the environmental sustainability of these areas.
In this context, the VI.P. project is configured as an incubator of innovative technologies, procedures and practices for Precision Farming to be introduced to the wine sector, to improve the sustainable management of the vineyard.
VI.P. foresees the creation of a model that will allow precise diagnosis of the vineyard through remote sensing and multispectral analysis systems to identify the various causes of stress and diseases present in farming. The project will enable the generation of geo-referenced descriptive maps of the vineyard and geo-referenced prescription maps of the specific interventions to be carried out.
Then, the planned interventions will be carried out automatically using an innovative variable rate robotic machine. The machine will be recharged through a special photovoltaic system equipped with an accumulation system.
The project consortium is led by Arione Mirko and consists of IDS, Egea New Energy SpA, Merlo Spa Industria Metalmeccanica, Agroinnova, Altec – Aerospace Logistics Technology Engineering Company SpA, Ant-Net Srl, Confagricoltura Cuneo – Unione Provinciale Agricoltori and Merlo Project Srl.