EUCAP: IDS and Siemens PLM to showcase next step in HF-EME partnership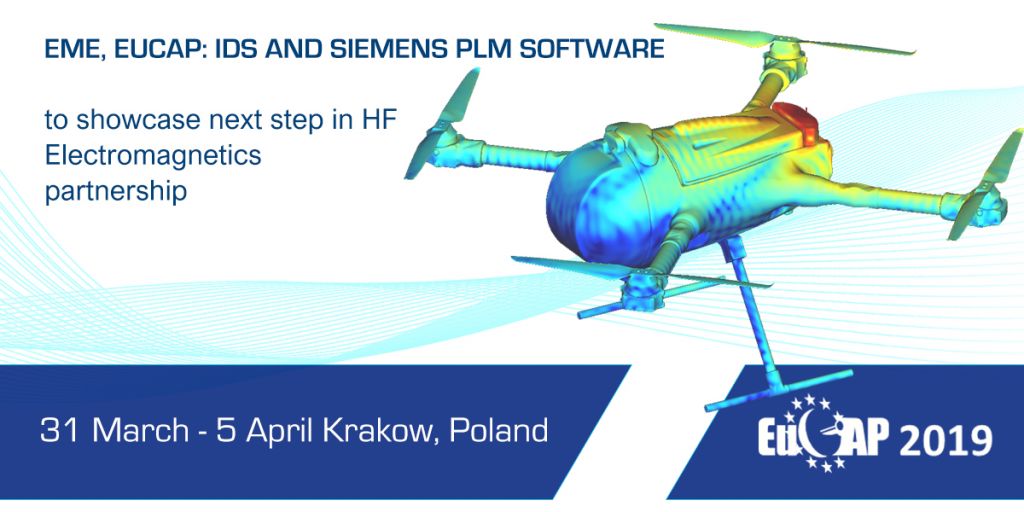 IDS and Siemens PLM Software will be attending the European Conference on Antennas and Propagation – EuCAP 2019 in Poland, ICE Krakow Congress Centre, from 31 March to 5 April.
At the XIII EuCAP, new capabilities available later in 2019 will be previewed, which leverage technology developed by IDS together with Siemens PLM Software to offer a solution to the increasing number of complex applications using Electromagnetics and Radio Frequency (RF) physics as a cornerstone:
Autonomous driving vehicles (ADAS based);
Transportation;
Industrial Internet of Things – IoT and Industry 4.0 fast growing technologies;
Communication systems (5G, WiFi and Bluetooth).
At EuCAP 2019, IDS will show its "3 Pillars" electromagnetic technology approach available today through Siemens PLM Software:
Consulting/Engineering competence;
Physical Testing and Measuring systems;
Electromagnetic modelling through Simcenter™ 3D CAE tools (expanding Galileo Suite IDS CAE products).
The unique IDS – Siemens PLM Software approach to EM Engineering integrates into an optimized process devised from the synergies between virtual testing, via EM modeling and simulation, and physical testing/verification, through electromagnetic measurement.
To demonstrate the effectiveness of the combined usage of IDS and Siemens PLM Software technologies in the product development, the IDS ElectroMagnetic Engineering Division will showcase its DronEM product, a micro UAV developed by IDS (IA-3 Colibrì) fully configured with an EM sensor and the related software to measure electromagnetic fields and process and visualize acquired data.
Discover more at our stand, Floor number 2 Booth 36-37